The beauty and grandeur of the Miami County Parks make it a great venue for small weddings.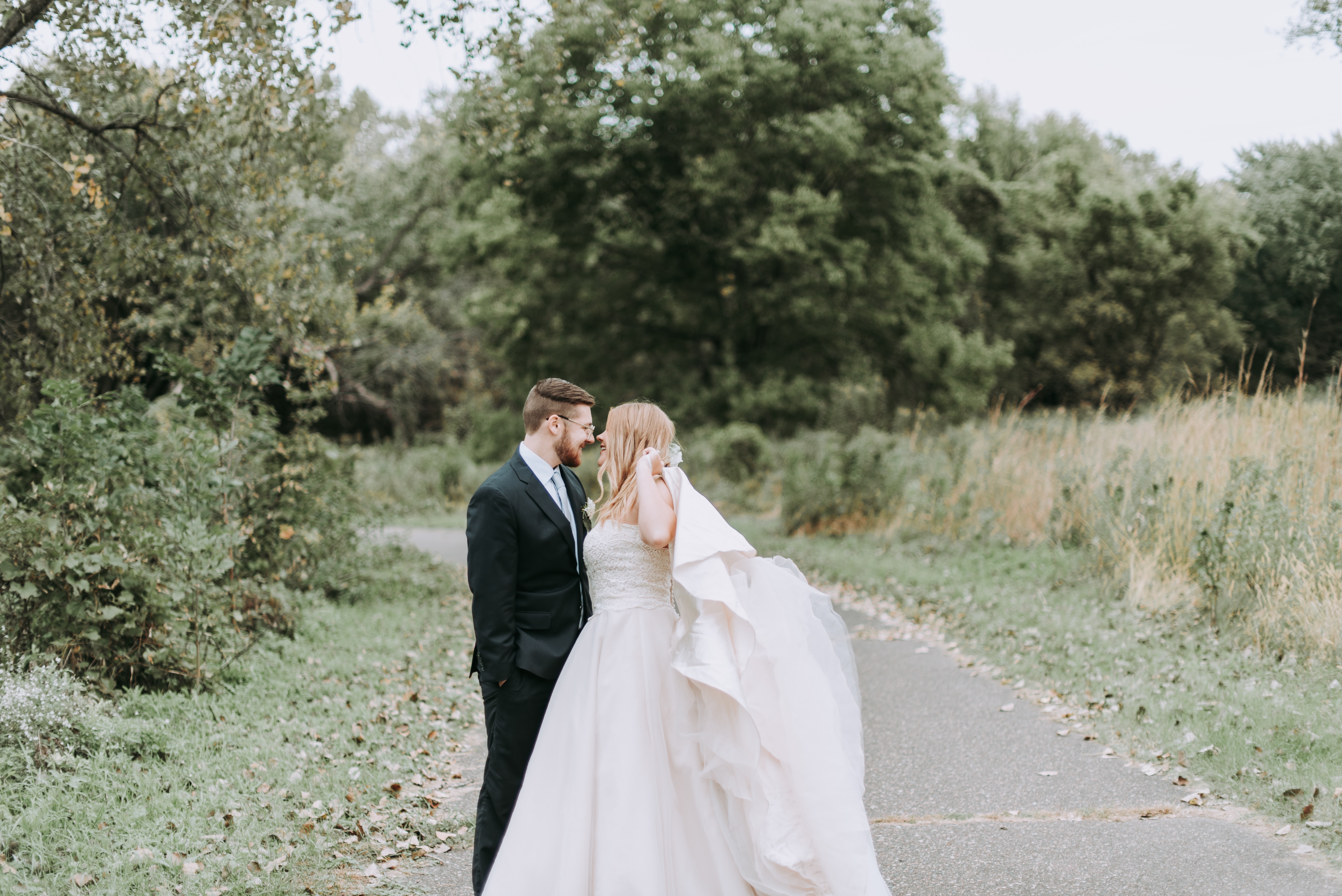 The Miami County Parks are the perfect place for small weddings. Nature provides a beautiful backdrop for one of the most important days of your life. We want your wedding day to be special and we look forward to working with you.
Because wedding ceremonies are not part of the purpose and ordinary use of the park, a Wedding Permit is required, regardless of size or duration. The permit enables the park to assist with the planning of wedding ceremonies while meeting the needs of park resources and visitors. Following is important information as you plan your "big day."
Heritage Hall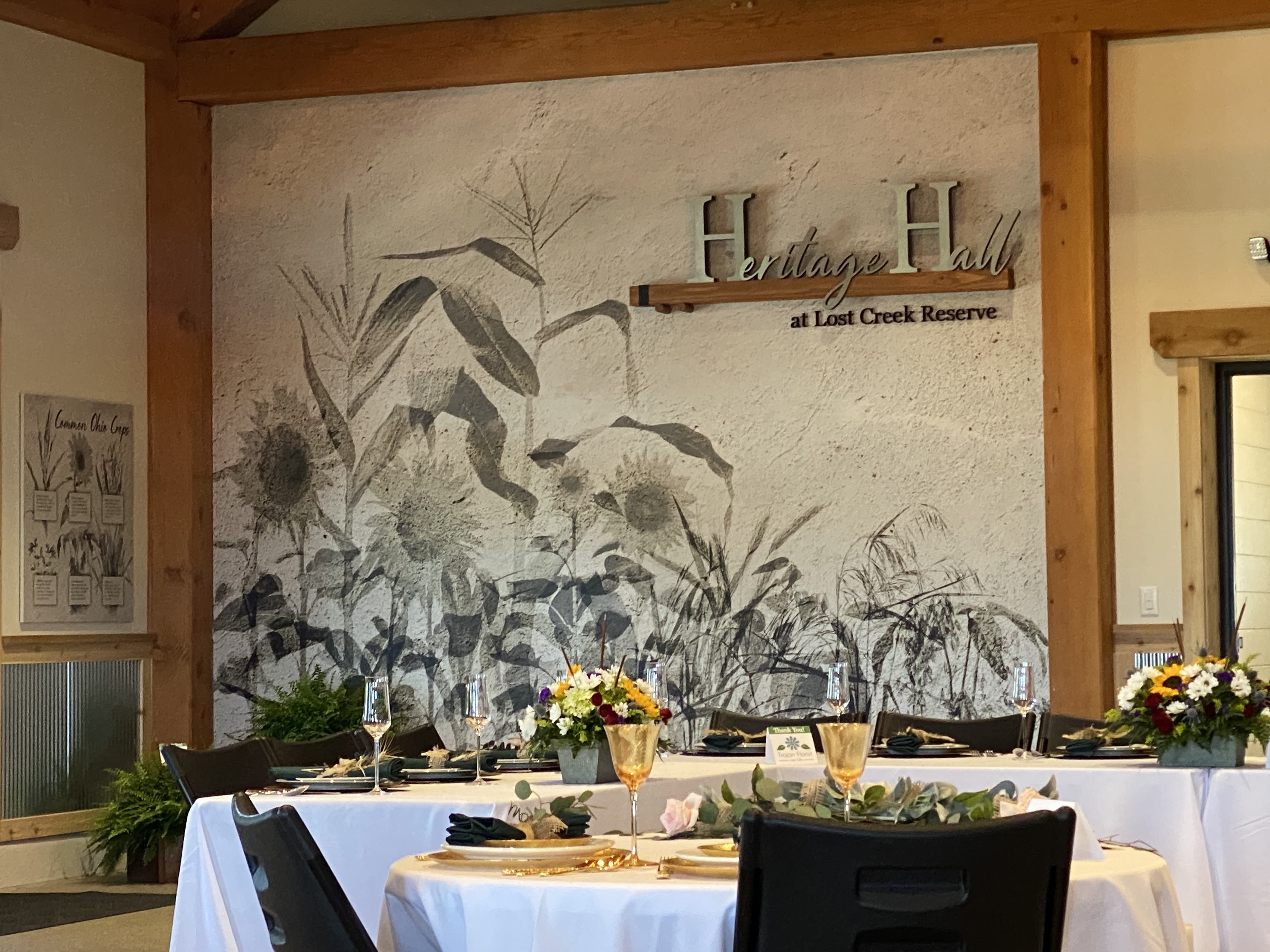 This beautiful rentable space located at Lost Creek Reserve combines rustic charm with modern technology making it the perfect place to host your special day. The Reserve serves as a stunning backdrop for your ceremony and wedding photos.
150 people in banquet-style seating
demonstration kitchen for caterer's use
flat-screen televisions, audio system and high speed wifi
porch
Exposed wooden timbers showcase the vaulted ceiling giving it a spacious feel while the high-speed internet and audiovisual equipment provide everything you need for a contemporary event. The 654 square foot front porch is a great place to get a breath of fresh air and offers a picturesque view of beautiful natural landscapes. For more information follow this link. To inquire about reserving Heritage Hall, please call 937-335-6273 or email HeritageHall@miamicountyparks.com.
Wedding Ceremony
Weddings must be scheduled a minimum of three weeks in advance of wedding date.
The wedding party and guests shall be limited to a maximum of 30 people for Charleston Falls Preserve and Greenville Falls State Scenic River Area.  Other parks within the park district wedding party and guests may be as large as 60 guests.
Wedding permits are available year-round for the various Miami County Parks. However, weddings are not permitted on Sundays, Holidays or on days when special events are scheduled.
While Charleston Falls is our most popular park for wedding inquiries, there are wonderful options at our other parks. Please be sure to check out the list of parks here on our website. Also, keep in mind that due to heavy seasonal visitation at Charleston Falls Preserve, some restrictions may apply.
One of the four Miami County Park reservable shelters are also available for weddings. Please note a Wedding Permit is still required for weddings that take place in a shelter.
Sound systems must receive prior approval.
Vehicles are not permitted beyond the parking lot. Drivers must park in designated areas only.
We recommend guests be informed of the natural settings and wear appropriate footwear and clothing.
For those couples interested in Charleston Falls Preserve, it is approximately a third of a mile walk to the falls. Special arrangements can be made ahead of time to transport persons physically unable to walk to the site.
Guests must remain on boardwalks and marked trails at all times.
Throwing of rice or releasing of balloons is NOT permitted; birdseed is allowed.
Any decorations must be tied or affixed not to damage signs or structures; nails, staples or any item that leaves damage to signs or structures are not permitted.
Decorations should not upset the natural settings of the park.
The wedding party and guests should arrive a minimum of one-half hour before the wedding and must contact park staff in the parking lot soon after arrival.
Weddings must take place within 30 minutes of scheduled time.
The wedding party is responsible for any necessary clean up.
Couples wishing to have a rehearsal must make arrangements for this ahead of time.
Miami County Parks Department does not provide chairs for wedding ceremonies. If chairs are needed for your ceremony, they must be rented and are the sole responsibility of the wedding party. Chair placement will need to be approved by park staff during the onsite walk through.
Permit Information
A wedding permit is required for all wedding ceremonies.
Click here for the Wedding Permit application.
Please note that submitting an application does not guarantee approval of the permit. 
There is no fee to apply for a wedding permit. However, if your application is approved there is a fee for having a wedding in Miami County Parks.  A non-refundable fee of $100 for county residents and $200 for out-of-county residents will need to be made to confirm your wedding reservation.
When completing your application, you should be as specific as possible. The more information you provide regarding your wedding, the easier it is to evaluate your permit request. We cannot process incomplete applications. Missing information can delay the processing.
An approved Wedding Permit does not give exclusive use of park areas. While most park guests will respect the occasion, the public may not be excluded from the event area. Flagging off areas or otherwise impeding public access to park areas is not allowed.
A Wedding Permit does not guarantee parking spaces. With this in mind, during nice weather, parking can fill quickly.
An ONSITE meeting with park staff is required at least two weeks prior to the wedding.
Photography Information
There are some important things related to professional photography/filming you need to know:
If you are planning to use a professional photographer/videographer to record your ceremony, you must indicate so on your permit application. 
Commercial photographers are required to have a photography permit when working in Miami County Parks.
The commercial videography/photography permit is the responsibility of the photographer.
If your photographer does not have a permit with Miami County Parks they should contact our administration office at 937-335-6273 or use the following link click here for further information and application forms.
Reception Information
A small reception may be held in one of the reservable shelters at Stillwater Prairie Reserve or Garbry Big Woods Reserve (see shelter rules and regulations/permitting). 
Alcoholic beverages are NOT permitted.
Amplified music is not permitted.
 
Before finalizing your wedding plans and completing a permit application, it is highly recommended that couples visit the park and scout out the location. Make note of the available parking and distance from parking to your proposed wedding site etc.
Please call 937-335-6273 with any questions.