Kay Hissong finds nature an amazing source of inspiration for her art. Her art is to honor the earth. She has worked in several different mediums which include oil, watercolor, fabric and pastel.
Kay earned her Bachelor of Arts degree with a double major in Fine Arts and Psychology from Manchester College. She spent her junior year studying art in Mexico at the Instituto Allende, in San Miguel de Allende.
Miami Co. Park District breaks ground for first building with indoor space for public useMay 25, 2021 
MIAMI COUNTY — The Miami County Park District will soon have a large indoor programming space for the public to use.
Tuesday the county broke ground on Heritage Hall that will be at Lost Creek Reserve just outside of Troy.
Troy, Ohio (March 19, 2020) – Last year, Miami County Park District (Park District) rangers responded to 65 req
Troy Daily News - story by Melanie Yingst
MIAMI COUNTY –While the state has mandated the closure of schools and indoor recreation, residents are flocking to its park systems in search of fresh air and to enjoy the outdoors during the shelter-in-place order through April 6.
Miami County Parks Executive Director Scott Myers said, "It's a great time for us to provide a solution for people to get outside and try to have some normalcy in their lives and to get out from the mental and physical standpoint."
Troy Daily News - Story by Mike Ullery
Ashley Miramontes of Troy walks the bike paths at Duke Park in Troy while her kids Cameron, 3, Audrine, 10, and Mason, 4, ride their bikes.
Lee Stockton, left, of Troy and Armand Tremblay of Tipp City warm up for a game of doubles tennis at the Troy Community Park last week. On the other side of the net was Doug Tremblay and Charlie Allen.
Carson Carroll, 3, of Troy tests one of the slides at the Troy Community Park last week.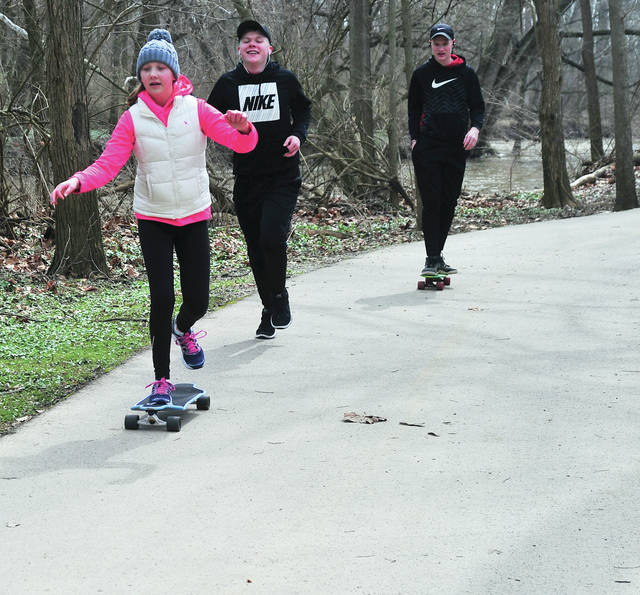 By Mike Ullery - Piqua Daily Call
Subscribe to