This beautiful 100-acre park has almost 1 mile of a boardwalk loop trail. This park offers peaceful walking and wildlife observation. It's undisturbed wet beech maple forest is quite unique. It is the only park in our park district that does not allow pets on the boardwalk due to sensitive plant life. Click on the tabs below for more information. Click on the link to view the brochure map of Garbry Big Woods Sanctuary. 
2540 E Statler Rd, Piqua, OH 45356

Google Maps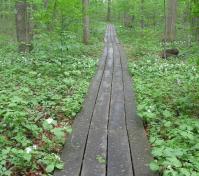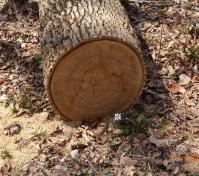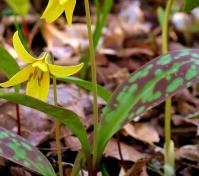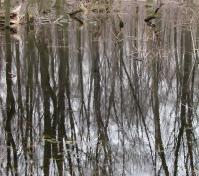 The Garbry Big Woods Sanctuary is a beautiful 100-acre park with an undisturbed wet beech-maple forest. There is a .7-mile boardwalk loop through this unique area. The Sanctuary is not connected to the Reserve but can be reached by driving a short distance. Each year there is a prolific spring flower display and a colorful autumn show. Many of the different plants and trees are labeled for easy identification. A handicapped accessible boardwalk winds through the woodland habitat helping to preserve the sensitive and rare plant community. To broaden your experience and to help protect this unique natural site, please use the pathways provided and please obey the rules of the Sanctuary. This is the only park that does not allow pets along the boardwalk due to the sensitive plant life.
History
On February 13th, 1981, J. Scott Garbry and his family of Piqua, Ohio deeded the 100-acre Sanctuary to the Miami County Park District.  Prior to this time, the "Big Woods" had been under the stewardship of the Garbry family for over 130 years. In accepting this responsibility, the Park District will, "protect, manage and preserve the site in perpetuity as an area for enjoyable observation of the natural world, leisurely pursuits, and inspirational contemplation."
 
Activities
Walking
Wildlife observation
Natural Features
100 AcresWoodlands
Wild flowers
Rare plant community
Facilities
.7 Mile boardwalk loop trail that does not permit pets
FULL - Frog Walk
Wildflower Walk
Adult Exploration Hike