The Great Miami River Recreational Trail boasts 32 miles of bikeway through Miami County. Enjoy nature while getting active by biking, running or walking along the trail. For more information, please click on the tabs below! 
For information on the entire bikeway system, visit Miami Valley Trails. Visit the Great Miami Riverway website for information on 99 miles of river, paved trails, and connected communities in southwest Ohio. You can also access printable river and bike trail maps here.
901 Dye Mill Rd, Troy, OH 45373

Google Maps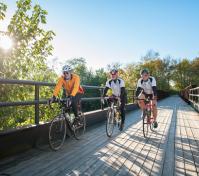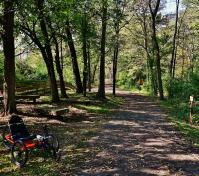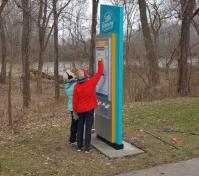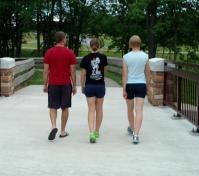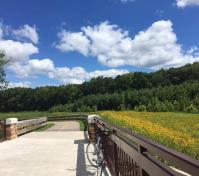 The Great Miami River Recreational Trail offers 32 miles of bikeway along the Great Miami River through Miami County. The Trail provides the opportunity to enjoy nature while getting active. The Park District is responsible for 10.5 miles of trail outside the corporation limits of the cities and villages.
Visit Miami Valley Trails for the most comprehensive trail map or download the Great Miami River water trail map.
History
The trail has been open since July 2005. The construction of this trail has integrated the efforts of many governing agencies of Miami County; The Miami County Park District, the City of Troy, Concord Township, the Miami Conservancy District, with private cooperation from Martin-Marietta Aggregates and assistance from The Troy Foundation.  
The process of trail construction required restoring an abandoned railroad bridge, traveling along a river, underneath a State highway, along an older railroad bed, by a golf course, and a major mining and asphalt facility. Although the challenges were many, the successes may be judged by the reality of the existing trail.  
The Miami County Bike Path task force continues to seek funding and property right-of-way as the dream of a county-wide bike path gets closer to a reality. The long-term vision is to connect with Shelby County to the north and Montgomery County to the south. 
The initial north to south bike path will not travel through any of the existing County parks; however, there are preliminary discussions for future bike path extensions to include other scenic parts of Miami County. 
Activities
Natural Features
Scenic views of the Great Miami River & Miami Shores Golf Course 
Beautiful wooded area
Historical Features
2 Historic locks
Historic Twin Arches 
Facilities 
2 parking areas (two locations on Dye Mill Road and one on St. Rt. 202)
10.5 miles of trail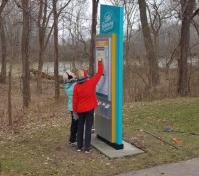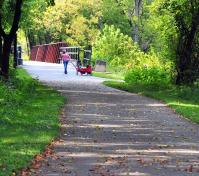 Miami County Park District offers many education programs throughout the year.  Check out the program calendar to see what programs are coming up at a Miami County Park near you.