Maple Ridge has 120 acres of rolling hills with over 2.5 miles of trail. It's a wonderful place to hike, fish and observe wildlife. One unique feature of this Reserve is the sugar house which was rebuilt as a replica from past decades. Click on the tabs below to find out more!  Follow this link to use the interactive OuterSpatial map or click here view the brochure map for Maple Ridge. You can also access the current Stillwater river map here. A new suspension bridge crosses the Scenic Stillwater River connecting to Stillwater Prairie Reserve
10430 OH-185, Covington, OH 45318

Google Maps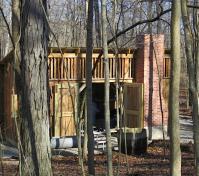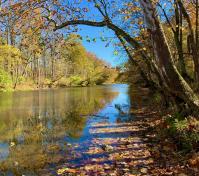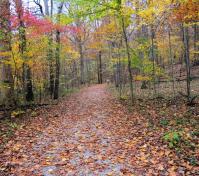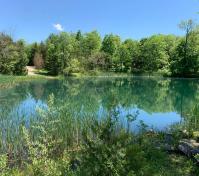 Maple Ridge, located along the Scenic Stillwater River, has a unique topography. Rolling hills stretch from the upland prairie through the woodland ravines and on to the Stillwater River. Included on the property are woods that cover 70% of the land as mature woods and successional fields, including a sugar maple grove and sugar camp. This large stand of mature maple trees provides sap for the on-site educational maple sugaring operation.   
In addition to the River, there is a fishing pond and two wildlife ponds which make this park the perfect place for fishing, viewing wildlife or hiking.
History
This property was purchased from the Coy family by the Miami County Park District in two separate transactions over the course of 2005-2006. The Ohio chapter of the Nature Conservancy worked out a land trade request with the family and then gave the Miami County Park District a letter of intent to sell them the property. The Park Board approved a grant request to the Land and Water Conservation Fund to help the Park District finance the purchase of the property.
Activities
Canoeing
Kayaking
Fishing
Wildlife observation
Nature programs
Maple sugaring operation (January – March)
Natural Features
120 Acres
Mature woodland area
Scenic Stillwater River
Prairie (part of the Annie Oakley Corridor)
2 wildlife ponds and a fishing pond
Rolling hills and ravines
Historical Features
Facilities
2.52 miles of trail
River access
Sugar camp
Suspension bridge over Stillwater River
Miami County Park District offers many education programs throughout the year.  Below is a list of just a few of the programs offered at Maple Ridge Reserve, check out the program calendar to see what programs are coming up at the Reserve.

Possible programs at Maple Ridge

Naturalist Adventure Series
Music in the Park
Adult Exploration Hike
Intro to Geocaching
Syrup Sundays
Owls & Howls