Troy, Ohio (March 19, 2020) – Last year, Miami County Park District (Park District) rangers responded to 65 req
Troy Daily News - story by Melanie Yingst
MIAMI COUNTY –While the state has mandated the closure of schools and indoor recreation, residents are flocking to its park systems in search of fresh air and to enjoy the outdoors during the shelter-in-place order through April 6.
Miami County Parks Executive Director Scott Myers said, "It's a great time for us to provide a solution for people to get outside and try to have some normalcy in their lives and to get out from the mental and physical standpoint."
Troy Daily News - Story by Mike Ullery
Ashley Miramontes of Troy walks the bike paths at Duke Park in Troy while her kids Cameron, 3, Audrine, 10, and Mason, 4, ride their bikes.
Lee Stockton, left, of Troy and Armand Tremblay of Tipp City warm up for a game of doubles tennis at the Troy Community Park last week. On the other side of the net was Doug Tremblay and Charlie Allen.
Carson Carroll, 3, of Troy tests one of the slides at the Troy Community Park last week.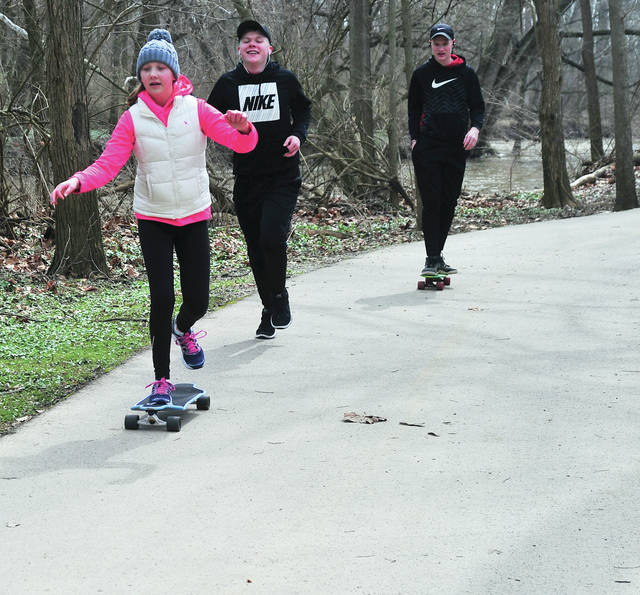 By Mike Ullery - Piqua Daily Call
Full article by Marilyn McConahay at: https://www.tdn-net.com/news/61629/riverway-members-share-marketing-strategies
TROY — Members of Great Miami Riverway met Friday morning at Troy's Hobart Arena at their 2019 Riverway Summit, sharing marketing strategies among their member organizations.
Members come from a 99-mile stretch of the river, which features paved trails and connected communities, from Sidney to Hamilton, Ohio.
Full Article at https://www.tdn-net.com/news/61449/local-doctors-prescribe-nature-to-children
TROY — Don't be surprised if next time you take your child to the doctor, they receive a prescription for outdoor nature play.
Local physicians will soon be prescribing nature to children across Miami County thanks to a collaboration between Dayton Children's Hospital, Miami County Park District, Miami County Public Health (MCPH) and Upper Valley Medical Center/Premier Health.
The Duke expansion property in Troy is getting spruced up for spring thanks to the U.S. Fish and Wildlife Service Partners for Fish and Wildlife program. USFWS biologist Donnie Knight has been clearing the dead honeysuckle and tree of heaven using a forestry mulcher. The removal of the debris will allow the ongoing monitoring and management of invasive species on the 29-acre parcel of land along the Great Miami River.
by Mike Ullery/AIM Media - 
Maggie Atkinson, her son Simon, 19, and daughter Evelyn, 16, from Dayton don't let wind chills near zero degrees keep them from enjoying the Miami County Park District's Charleston Falls on Friday afternoon.
Mike Ullery |Daily Call - Todd Lewis of Casstown enjoys a morning run in the snow along the bike path at the Miami County Park District Farrington Reserve on Saturday.  Full Article.