The Miami County Park District 2013 Strategic Plan, Strong Tradition-Sustainable Future, is the culmination of almost two years of work.

The Strategic Plan includes input from our staff, park planning experts and community stakeholders.The strategic planning process offered the opportunity to seek input from the community and create a road map for the future.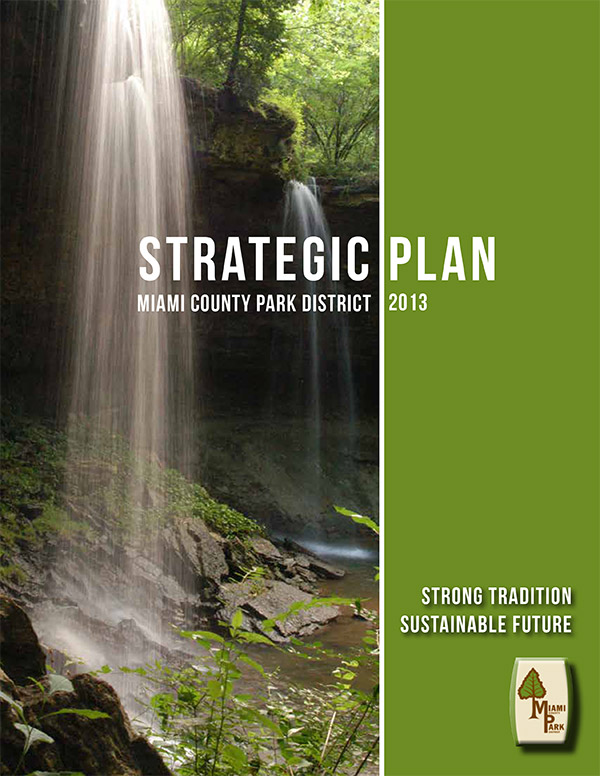 The Miami County Park District 2013 Strategic Plan is a guiding document designed to focus the direction of the organization and serve as a tool for effective management. The Plan was developed using relevant data and information gathered from Miami County stakeholders. Key fundamental values and opinions were summarized and used to form the Plan's foundation. This Strategic Plan outlines the Mission, Vision, goals, objectives and action plans for accomplishing its overall purpose. 
Mission 
To conserve natural resources and enrich the quality of life for the people of Miami County through stewardship, environmental education, outdoor experiences and passive leisure activities. 
Vision
The Miami County Park District will continue to connect people with nature and contribute to quality of life through responsible conservation and stewardship. Protection of natural resources through preservation and management will continue to be the primary purpose of the organization. Maintaining healthy open spaces and native habitats improves water and air quality and provides an economic impact to the community. The Park District also intends to protect and share cultural resources, while promoting the importance of the natural and agricultural heritage within Miami County. 
The Park District has established an outstanding environmental education program designed to increase appreciation and understanding of nature and land stewardship. The programs will continue to educate children in Miami County with extensive school-based curriculum, field-trips to park locations and hands-on activities. There will also be new learning experiences and initiatives designed to better connect individuals and families with nature. The Park District will explore and promote partnership opportunities with schools, local businesses and outside agencies to continue providing extraordinary educational programs and services. 
The Park District has an exemplary reputation for stewardship of natural landscapes and for clean, safe and well-maintained facilities. The Park District is also providing personal connections with individual residents, families and the entire community through high-quality public programs and special events. There will be an emphasis on programs, education and partnerships to promote health and wellness by encouraging outdoor activity and lifestyle improvements. The Park District intends to offer a variety of outdoor experiences that will build stronger connections with nature and contribute to the social, economic and environmental well-being in Miami County. 
Values
Land Stewardship
Visitors are Greatest Resource
Positive Learning Experiences
Community Ownership
Health and Wellness
Connecting People with Nature
Creating Memories
Exceptional Education Programs
Clean and Safe Parks
Protecting Natural Resources
Quality Outdoor Experiences
Guiding Principles 
Stewardship - Building Upon a Solid Foundation
There has always been a strong appreciation for the land in Miami County due to the history of agriculture and respect for local resources. The Park District reinforces this relationship by protection of unique landscapes, enhancing ecosystem health and increasing biodiversity. 
The rivers, streams, wetlands and aquifers of Miami County are unique resources and provide the connective framework for our open space system. These water assets enhance the liability of the region and contribute extensively to our economic stability and enduring value. 
The citizens, businesses, civic organizations, schools, churches, government and non-profits are all partners in making Miami County strong. As a member of this team, the Park District provides opportunities for outdoor experiences, education and personal connections with nature.
Connectivity - Linking Our Resources and the Community
As the largest conservation agency in Miami County, the Park District protects valuable natural and cultural resources that benefit all citizens. Connecting these unique assets throughout the County increases their value and accessibility. Many of these physical connections are possible through the collection of rivers and streams which provide a "green" framework, including both land and water-based trails. The Park District also connects people with nature through education, outdoor experiences and land stewardship. Important environmental, economic and community services are provided through open space preservation and leisure activities. 
Going Forward
The Park District will continue to be good stewards of land, facilities and financial resources. In order to remain an important asset to the community, the Park District will continuously search for ways to improve services and better connect with patrons. The organization will research ways to diversify experiences that align with the Mission. Specific areas to be explored for expansion include health and wellness, outdoor adventure, agriculture and technology-based programs. In addition, the Park District will strive to be the leader in sustainable practices and help increase the economic value of the area. 
In order to accomplish all these plans, the Park District has created seven Action Plans, each with a goal and strategies. In the next five years, the Park District will work hard to complete these strategies to accomplish these goals.